Have You Considered…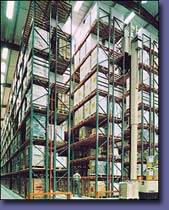 Cost? Accessibility? Professional Inventory Management? Security? These are all obvious factors that should be considered when evaluating a full service warehouse. The following less obvious questions may also be helpful in your evaluation:
When was the last time you needed something but were unable to quickly access it or even determine whether it was in inventory?
What is the value of the space you are presently using for storage?
Do warehousing or inventory management activities require the use of key personnel?
Do you know who requested and pulled which items and when?
Are your employees safe from injury, including back injury?
How safe is your material from vandalism and theft?

Operating Philosophies & Objectives
We aspire to:
1.

Conduct business with honesty, sincerity, and integrity, holding Christian principles as our foundation. We further strive to hold to the same principles internally.

2.

Provide a work environment that enables every employee, if so motivated, to reach the highest possible level of professional and personal fulfillment and growth. It is the belief of management that companies do not succeed, people do.

3.

Communicate

4.

Strive to achieve and retain customer satisfaction and loyalty by:
-Trying to view things from the customer's point of view.
-Working hard to solve problems for and meet the needs of our clients and customers
-Communicating with a positive and supportive attitude at all times.
-Promoting and maintaining a professional image in both appearance and conduct.

5.

Interpersonal relationships within the company should be carried out with a high level of integrity, good will and service.

6.

Be a dynamic organization of excellence committed to continuous improvement.
---