The Company
For over 35 years, All Services Storage & Transport has been conducting business in Baton Rouge, Louisiana. Some of our customers have been with us from the beginning. Simply stated, we are a professional storage and material management company offering full service warehousing to business and industry in Louisiana, Arkansas, Texas, and the Gulf Coast of Mississippi and Alabama.
The Services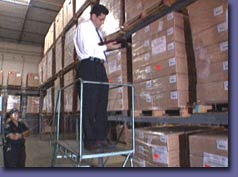 Each of our services are designed to support our warehousing operation. They include:
Receiving
Storage
Material Management
Detailed Inventory Tracking and Reporting
Consolidating
Delivery (including inside delivery), and shipping
The Benefits
All Services Storage & Transport provides many services that can be of benefit to both businesses and their customers:
Receiving: Deliveries are received daily from overnight carriers as well as dock side tractor-trailer carriers.
Professional Management: Barcode tracking, inventory rotation, consolidating, quick response from order processing to delivery. Our professional staff will contribute to the successful management of your material.
Safe, Secure Storage: Our warehouses have security and fire detection systems that are monitored 24 hours a day. On average, All Services Storage & Transport personnel have been here for over 15 years.
Quicker Turnaround: Our pulls, accounting, and deliveries are frequently faster than in-house response times. The result may be a higher level of customer satisfaction.
Variable Costs: You only pay for the volume of space your material occupies. This eliminates all of the overhead and maintenance costs of unused space. In addition you have zero labor costs until a service is requested.
Management Reports: We can provide reports that answer questions such as the following: Who requested what item and when? Where was it delivered? Who signed for it? Is there any more in stock and how old is it?